Debt Collection
Here at DebtCollection.me.uk we have many years of Court experience between us and specialise in
UK Debt collection
. We have in depth experience of how your claim should be presented to the Court. We are familiar with all methods of enforcement. Each case is dealt with individually; so let our professional approach take the worry of your bad payers for you.
What do we do?
As a supplement to your own credit control system DebtCollection.me.uk will:-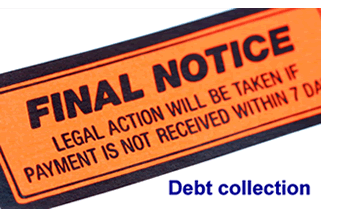 Debt Collections
* Write to the debtor giving 7 days to pay. If payment is not made the claim will be processed through the Court on your behalf.

* Continue until payment is made in full or an agreed amount is paid in satisfaction of the claim, or all efforts of recovery have been exhausted.

* If the matter is defended, prepare the Court documentation and witness statements to be used at the hearing.

* Seek your approval at every stage before proceeding.

* Leave you at liberty to withdraw at any time.

* Not make any charge for commission if the money is not recovered.
There are six policies to choose from, each tailored to the specific types of cover required for different events - select the one that you require for more details and a quotation.
What you need to know if the bailiffs do turn up
BAILIFFS collect only certain debts such as unpaid council tax, parking fines or county court judgments.

We are licensed by the Office of Fair Trading as Debt Collectors. As Members of the Credit service Association we are governed by their Code of Practice. we are also members of the Civil Court Users Association.
No Win No Fee
If it's results you want, then try me...
Debt Enforcement
Company Investigations
Tracing Service
Summonses Issued
Statutory Notices Issued


Entering into an IVA immediately stops all creditor, court and bailiff action for good - no more phone calls, letters, or home visits.
We offer a complete service for debt management and debt advice. As IVA specialists it's our job to provide you with the correct advice to help you reduce your debt and expense.
Debt Collection

Debt Enforcement

Company Investigations

Service Of Documents
Bankruptcy Proceedings

Tracing Service

Vehicle Repossession

Summonses Issued

Statutory Notices Issued
Whether paying off credit cards, celebrating a special occasion or making home improvements, a personal loan allows you to get cash fast. After talking through your requirements, your personal advisor will evaluate a wide range of products from a number of lenders before recommending the ideal one for you. Your personal advisor will then forward your details onto the lender to process your application.